"It is a song that was written by an American folk musician called Si Kahn. It is a song that Dick Gaughan always used to open with. It's called What You Do With What You've Got. The chorus goes: 'It's not just what you're born with, it's what you chose to bear, it's not how big your share is, it's how much you can share. It's not the fights you dreamed of, it's those you really fought, it's not just what you are given, it's what you do with what you've got.' It's not an easy one to sing along to, but it is one that I would dearly love to have played, and it has meant a lot and inspired me along the way." – Scottish member of parliament Richard Thomson when asked what song he wanted played at his funeral by Holyrood's "Inside Politics."
https://www.holyrood.com/inside-politics/view,richard-thomson-mp-political-spin-19943?fbclid=IwAR15pKUjNHAarXjiM2SyGJn0OFGPrY2KkHnV-FHIFssqN594oXlSF1OjNSo
According to the Scottish National Parliament's official website, "Richard Thomson is the Scottish National Party MP for Gordon, and has been an MP continuously since 12 December 2019. He currently undertakes the roles of Shadow SNP Spokesperson (Northern Ireland), Shadow SNP Spokesperson (Wales), and Shadow SNP Spokesperson (Trade)." https://members.parliament.uk/member/4796/contact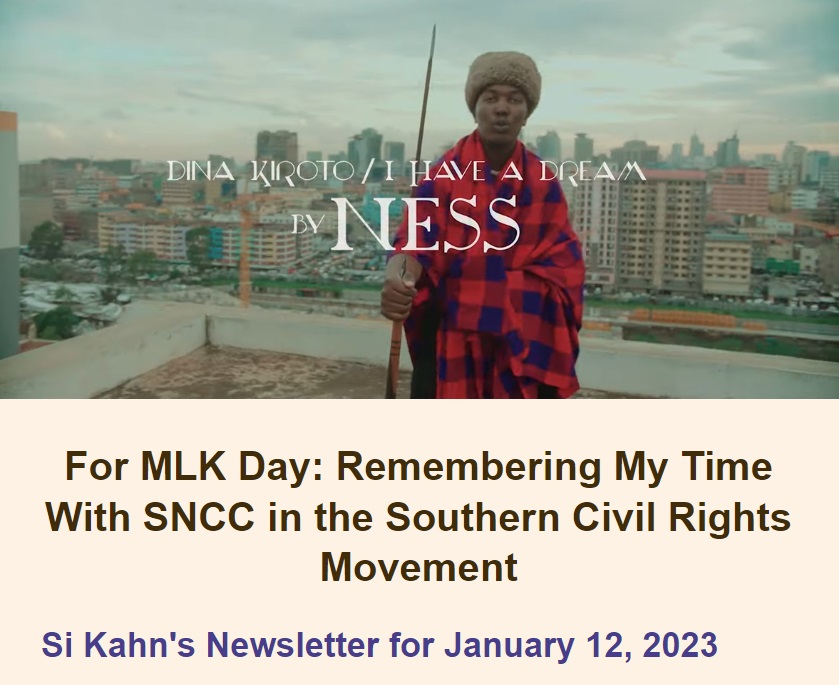 I spent the summer of 1965 as a volunteer with the Student Nonviolent Coordinating Committee, more popularly known by its initials SNCC (pronounced "SNICK") in Forrest City, Arkansas. Those four months were, and remain, the turning point in my life. It was there, in the heat and threat of a Southern summer, in a town founded by and named after Nathan Bedford Forrest — slave trader, Confederate general, first Grand Wizard of the Ku Klux Klan — that I learned who I wanted and perhaps needed to become. Fifty-eight years later, that's who I am, still who I try every day to be: An organizer for justice.
Twenty-four years after that summer, I walked onto a plane headed for Washington DC. A flight attendant handed me a morning newspaper. I sat down, buckled up, looked down, and stared at a headline about the 25 year anniversary of the murder of Schwerner, Goodman, and Chaney, three SNCC civil rights workers, an African American and two Jews, murdered in Mississippi by the Ku Klux Klan, buried under an earthen dam.I cried through the whole flight. But by the time we landed, I had written this song: https://music.youtube.com/watch?v=WGB6vdnSaVY No matter where I am, no matter what I do, in some sense for me it is always 1965, it is always Forrest City, it is always SNCC. This is who I am, this is who I hope always to be.
You can read the entire January 12, 2023 Si Kahn newsletter at https://madmimi.com/p/a5a5651#
Participate in the FAI For Pete's Sake, Donate! campaign
Join me in making a simple folk song video for Pete Seeger's May 3 birth anniversary
Now, as to why I made this video of "The House Carpenter," a traditional song rather than one of mine; I am happy to share that I'm joining with Folk Alliance International as a Champion for its #ForPetesSakeDonate campaign in support of The Village Fund created by FAI.
In this role, I am asking anyone who can play or sing to join me in this campaign. On May 3, 2022 (Pete Seeger's Birthday) share a video of yourself playing your favorite folk song on social media and link that video to the fundraising campaign for The Village Fund.

I am proud to share that I'm joining Folk Alliance International as a Champion for the #ForPetesSakeDonate campaign in support of The Village Fund.
In this role, I am asking you to join me in this campaign. Your task is simple. On May 3, 2022 (Pete Seeger's Birthday) share a video of yourself playing your favorite folk song on social media, link that video to the fundraising campaign for The Village Fund, and tag a friend who you'd like to hear a folksong from.
We are working to get 250 people to pre-commit to this activation. Please visit this website to fill out a form to let us know that you're in. When you've filled out the form, Folk Alliance International's staff will follow up with suggested language to use and instructions.
As we all know, the Pandemic has hit the music community hard and continues to challenge working musicians. The Village Fund is a grant program for folk artists and independent music industry professionals experiencing financial hardship, administered by Folk Alliance International. FAI has given out $50,000 in $500 grants over the last year.
We're working to raise $40,000 this May to continue to give out grants. The first $10,000 raised will be matched by an anonymous donor.
By design, the #ForPetesSakeDonate campaign will be viral and artist-lead. We want as many people to participate as possible. Not just professional musicians. Everyone.
Enjoy Si's November 2016 three-part video conversation with folklorist Steve Winick of the Library of Congress.
https://www.loc.gov/collections/event-videos/?fa=online-format:video%7Caccess-restricted:false%7Ccontributor:winick,+stephen%7Ccontributor:kahn,+si
From Si's occasional (every 2 to 4 weeks) enewsletter. Subscribe here.

All the best for the New Year

Here's a toast to the New Year, and to all of you for whom my music has mattered. May 2022 be a happy, musical year for you and yours, with a little more peace and justice and much more health for this battered world we share.

My wish for all of you for the coming year comes in the form of my song "New Year's Eve" from my very first album New Wood, released all the way back in 1975 as an LP on June Appal records, part of Appalshop in Whitesburg, Kentucky, and re-released as a CD in 1994 (Rounder/Philo 1168, also out of print). You can read the lyrics below.

This year we travel across the pond to present a version of "New Year's Eve" by the Scottish brother band The McCalmans, from their 1993 Greentrax Records album Honest Poverty: www.youtube.com/watch?v=xIma6ovjRg8

"New Year's Eve"
(c) Si Kahn, Joe Hill Music LLC (ASCAP)

I have seen you tossing restless
Between midnight and day
Paying back the debts of many years
Staring out the window
'Till the mist has burned away
Waiting for the sun to dry your tears

I've seen you young
I've seen you old
I've seen you lost and found
I've seen you sit and cry
Without a sound

I've seen you in the lamplight
With the hard lines in your face
The shadows of your fears upon the wall
But crying is no weakness
To lose is no disgrace
You see we're not so different after all

You can tell
By the ringing bell
The old year's moving on
I'd like to say one thing
Before it's gone

May whatever house you live in
Have flowers by the door
Children in the bed to keep you warm
May the people there accept you
For who you really are
Help you find some shelter in the storm

And morning rain
To ease the pain
That comes with being free
May the New Year bring you freedom
Peacefully
Armistice Day was created following the brutal First World War as nations mourned their dead and collectively called for an end to all wars. Armistice Day, when bells tolled at the 11th hour of the 11th day of the 11th month, was designated as "a day to be dedicated to the cause of world peace and to be thereafter celebrated." But during the 1950's Cold War, a militarist United States government changed the name to Veterans Day.
At 8:00 pm eastern time this evening, Thursday, November 11th, Madison Veterans for Peace and The Progressive magazine are hosting a virtual event considering whether peace is in this country's future, with speakers on topics including the rise of China, the U.S. drone program, and the wars in Iraq and Afghanistan. Musical interludes will be provided by Vietnam era U.S. Army Reservist (1965-1971) Si Kahn and John McCutcheon.
Find the livestream at https://facebook.com/theprogressivemagazine or https://youtube.com/theprogressive
Once archived, you can click on the images for his songs "Season of Peace" and "When the War is Done" to enjoy the videos that Si pre-recorded for this event.
On Wednesday, November 3, 2021, the acclaimed The Bluegrass Situation, co-founded by actor Ed Helms, profiled the title song from the re-release of Si's Been A Long Time.
You can read the feature here: https://thebluegrasssituation.com/read/listen-si-kahn-been-a-long-time/
You can get your own copy of Been A Long Time directly from Si at PayPal Checkout
You can learn more about Been A Long Time at Si Kahn re-releases an underappreciated bluegrass classic from the turn of the century | Si Kahn
The Alliance for Jewish Theatre conference curators selected Si's musical play Stranger in This Land for the first of only three virtual performance segments at its three-day virtual conference on October 24-26.
Stranger in This Land answers the eternal question: What do the following have in common: Soldiers in the Czar's army, shoe factory workers, gas station operators, rabbis, civil rights leaders, pick and shovel laborers on the Canadian Pacific Railroad, Jewish faith healers, illegal immigrants, hod carriers, bootleggers, a soldier in the trenches of World War I, Talmudic scholars, and a driver for Al Capone?
They're all among the older generations of Si Kahn's Polish/Russian/Lithuanian/Austrian Jewish family, stretching back to the 19th century and his great-great-grandmother.
With special appearances by (in more or less alphabetical order): the Angel of Death, the Black Plague, gold cigar cutters, corned beef, Cossacks, the Czar, the "Goldene Medina" ("Golden Land"), the Italian mob, the Jewish mob, the Kaddish, Emma Lazarus, Miami Beach, miracles, pastrami, pogroms, Pete Seeger, shrimp-wrapped bacon, and the Statue of Liberty.
If you are interested in learning more about the Alliance for Jewish Theatre, go to https://alljewishtheatre.org/conference/
Stranger in This Land is available for production. Serious inquiries can be made to sikahn75@earthlink.net.