When I learned Saro Lynch-Thomason was planning to launch a Patreon campaign, where people who deeply believe in a particular artist agree to make regular monthly contributions to support her work, and in return receive examples of that work that might not be otherwise available, I wrote her thusly:
I asked Saro Lynch-Thomason if I could be the first to make a monthly pledge to her new Patreon campaign, not just because of our long friendship, but because I deeply believe in Saro, the work she does, the values she stands for. A gentle, tough soul, Saro gives us hope for the future of music that makes a difference, of work that helps us imagine and create a better, gentler, more just world.
Songwriter, singer, teacher, historian, author, graphic designer, artist — amazingly enough, she's good at them all. But what I love and respect most about Saro is her essential decency and humanity, her rootedness in community and in care for others. Here's a quote from her Patreon site:
"My song craft is about equipping living generations with what musician and organizer Utah Phillips called 'the long memory.' I believe that when we listen to the stories behind our songs, we are better prepared to walk the paths of resistance and resilience well worn by those who came before us."
I've never before used this newsletter to request financial support for another artist. But in addition to all of the above, there's a particular reason I hope you'll join me in helping give Saro the space and support she needs to continue and enhance her good work. As she writes on her Patreon page:
"And, to be real, this Patreon is also a way to help support my self-care. I live with several autoimmune conditions and a separate form of chronic nerve pain. Dealing with these conditions can be tough, and the stability offered by monthly patronage allows me to regulate my schedule and take care of myself while still getting to produce the art I love!"
I hope as many of you as possible will join me in supporting this truly remarkable artist and humanitarian. All you need to do to get started is to click on the text below.
For this time in which so many of us are far away from family and friends, here's Saro singing "10,000 Miles Away," backed up by Sam Gleaves, Liam Purcell and Hasee Ciaccio.
Based on the success of our strategies mobilizing young voters in the general election, we are working to create historic voter turnout in the two Georgia runoff elections where 21% of the electorate are young people. 

We are specifically focused on reaching young people of color.
 
Contributions go to reaching young voters using these innovative strategies:
1. Registering young voters, including the 23,000 young people born in 2003, but that will be 18 by Election Day, before the December 7th deadline. 
 
2. Sustained targeted digital advertising, reaching 1.1 million, and influencer partnerships on social media like Instagram, Snapchat and TikTok.
 3. Superpowering organizing by enabling young people to volunteer and organize through TurnUp, our innovative mobile app.
4. Get out the vote programs at college and high school campuses in Georgia.

 5. Sponsoring youth organizing fellows getting out the vote on the ground in Georgia.

  6. Calling and texting voters with our volunteers from around the country.
I hope you'll join me in contributing to Turn Up Activism. Best of all, because the organization is recognized by the IRS as a 501(c)(3) non-profit organization, your contribution will be tax-deductible.
You can make your tax-deductible contribution through ActBlue Charities https://secure.actblue.com/donate/turnoutgeorgia
If you would like to send a check or make a grant from a donor advised fund or foundation, make the check payable to Turnout Activism Inc. and send it to 35 Walden St #3g Cambridge, MA 02140, USA. Our EIN is 83-3917641.
Here's to victory in Georgia, the best way I can think of to start the New Year.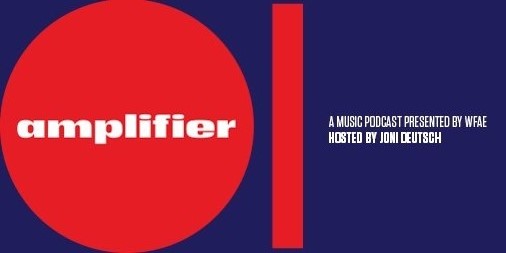 The Amplifier series, the music podcast from @WFAE, interview with Si Kahn will go live the morning of Thursday, September 10, on wfae.org/amplifier and Apple Podcasts, Spotify, Google Play, and anywhere podcasts can be found. The interview by Jodi Deutsch will focus on Si's life and music career and his thoughts on 2020's many up's and down's. You can hear it at http://wfae.org/amplifier. #WFAEAmplifier
Words and music to "Yo! Semite!" by Si Kahn. © 2020 by Joe Hill Music LLC.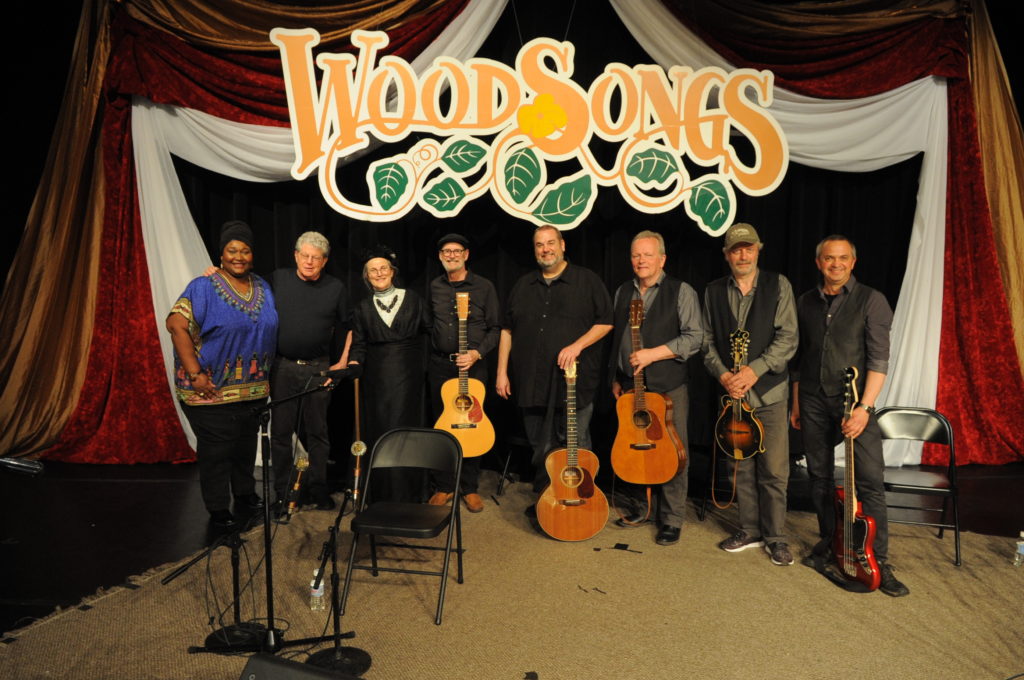 Woodsongs 972! Monday, August 3rd, 7 PM Eastern
Si Kahn, the Looping Brothers, Matt Watroba, and Vivian Nesbitt & John Dillon from spring 2019
At 7 PM Eastern on Monday, just go to https://youtu.be/DMDCbyVbjRQ to enjoy Si Kahn & Friends with the Looping Brothers, Matt Watroba, and Vivian Nesbitt & John Dillon on Woodsongs. A real concert in person with an audience from April 2019 in Lexington, Kentucky, marking Si's 75th birthday.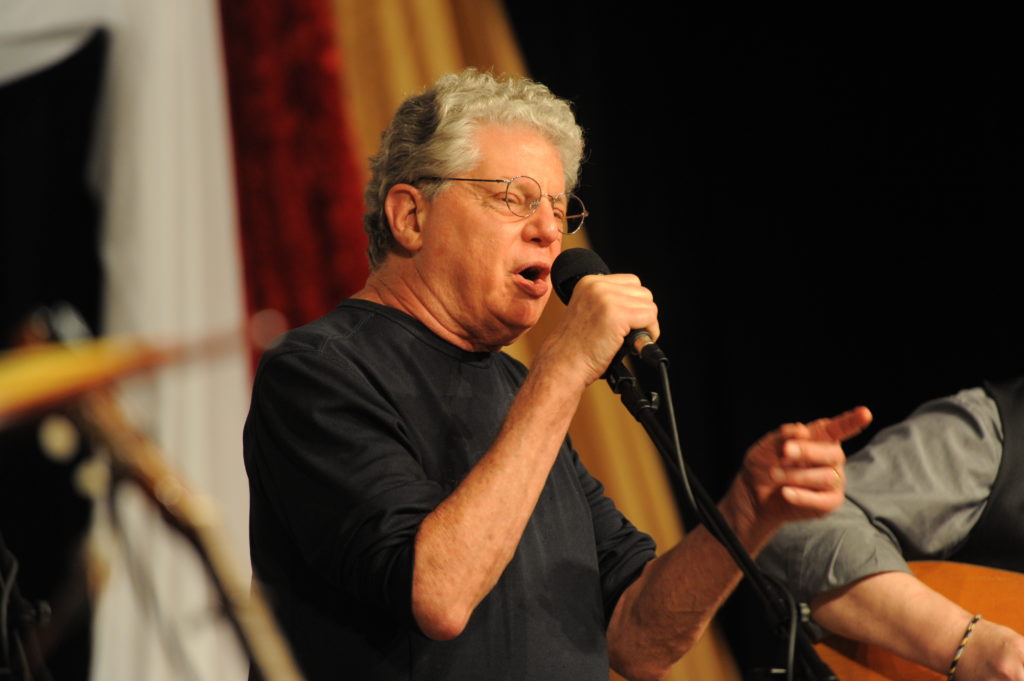 My August Newsletter is online now
Please subscribe. 
https://madmimi.com/p/ee36111#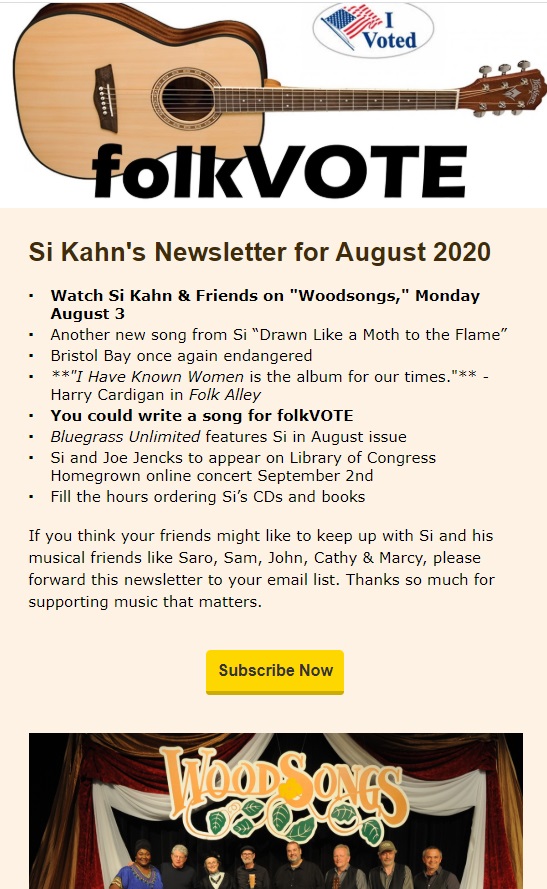 The phrase "Drawn Like a Moth to the Flame" was in an email my great friend of many, many years Becky Johnson (aka "Mrs. Bluegrass") sent me Monday of last week.  That email and my friendship with Becky inspired me to write the song that same evening.  I recorded the video last Thursday night.
This is a song for the moth The moth can do wonderful things Just flying around Is simply astounding Let's see YOU flutter your wings I know you're shaking your head Your faith in my judgement is shaken But when I thought what to sing For the animal kingdom All the really cute creatures were taken What do say when the power's so strong We cannot resist its appeal We say, "Drawn like a moth to the flame" I truly believe It's no small achievement To give human emotion a name This is a song for the bugs If I might make a suggestion They're living their lives Trying hard to survive Down there in your lower intestine Maybe they're dancing the polka Maybe they're doing the waltz But if things go wrong And you don't last very long It really just isn't their faults What do say when the power's so strong We cannot resist its appeal We say, "Drawn like a moth to the flame" I truly believe It's no small achievement To give human emotion a name This is a song for the moth No need for laughter and scorn They have such a short life Filled with danger and strife Dying only months after they're born So there's no need to fidget and fuss No need to argue and cuss It gives me great pride To know I'm on their side There's a lot more of them than of us What do say when the power's so strong We cannot resist its appeal We say, "Drawn like a moth to the flame" I truly believe It's no small achievement To give human emotion a name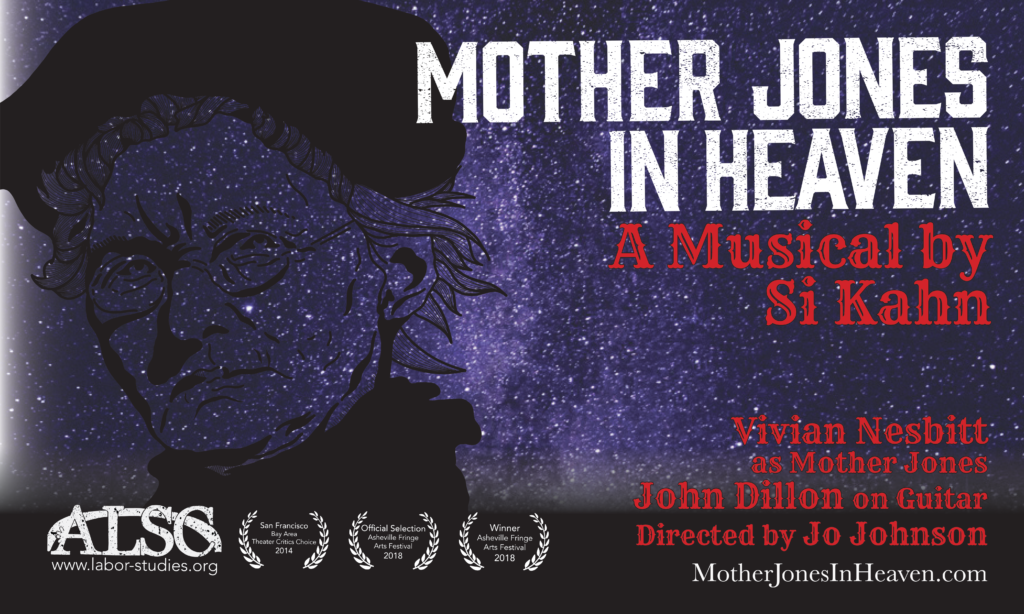 Set a reminder and use this link to watch on YouTube live at 8PM EDT Thursday: https://youtu.be/PaeO3EX9ajA
Video Promo: https://youtu.be/zI3vLbqsv9s
More information available at http://www.motherjonesinheaven.com
"An inspiration in the fight for workers' rights and human dignity… timely, educational and necessary." – Paul F. Cole, American Labor Studies Center
Vivian Nesbitt and John Dillon, the nationally touring cast, take Si Kahn's musical "Mother Jones in Heaven" worldwide on livestreaming Thursday. While they were performing all over North America before COVID-19, this will be one of your few chances to see them live from your home. The virus has had a devastating effect on almost all performing artists, including Vivian, John, and Si. Please support this outstanding webcast.
At 8:00 pm Eastern Thursday (5-28-2020), just use computer, phone, tablet, smart TV or DVD player, or similar device to go to Caffe Lena's YouTube channel at https://youtu.be/PaeO3EX9ajA.