Honored at Great Labor Arts Exchange
Thursday night, June 20th, at the Great Labor Arts Exchange in Washington, DC, the Labor Heritage Foundation honored Si Kahn with the Joe Hill Award. The Foundation presents the award, named for the legendary Wobbly songwriter, as a lifetime achievement award for contributions to the labor movement and to working-class culture.
"We are presenting the Joe Hill Award tonight to one of the greatest songwriters of this generation or any generation, Si Kahn," Labor Heritage Foundation board chair Saul Schniderman said in presenting Kahn with the Award. "So it is fitting that he receive an award in the name of Joe Hill, the famous IWW songwriter who gave his life for the cause. And because 2019 is Si Kahn's 75th birthday, all the more reason to celebrate.
"Tonight we praise you for your musical and artistic contributions to the working class and to the labor movement.  For your creative songs which tell the stories of unions, of people of color, of immigrants, of everyone struggling for human rights.  For your hundreds of compositions such as 'Aragon Mill,' 'Gone Gonna Rise Again,' 'Mississippi Summer,' 'Crossing the Border,' 'They All Sang Bread and Roses,' and 'People Like You. '
"For your many sound recordings such as New Wood, We're Still Here, I Have Seen Freedom, Carry it On, Bristol Bay, Courage, and recently It's a Dog's Life with The Looping Brothers.  For your playwriting, your innovative musical theater presentations which tell Labor's Untold Story – such as Joe Hill's Last Will, Mother Jones in Heaven, Some Sweet Day and Precious Memories. For the numerous folk and bluegrass music awards you have received, for your concerts, songbooks, and publications promoting people's music, and for spreading the gospel of social justice through music and drama.  For all these past years you have Carried it On!"
"This past week I was in Silver Spring, Maryland for the 40th anniversary of the Labor Heritage Foundation's annual Great Labor Arts Exchange, at which they presented me with their Joe Hill Lifetime Achievement Award, a great honor," Si wrote. "Among the things I learned from Joe Hill were that one of the best ways to make sure a political message really gets heard is to use humor and satire, and that people pay the most attention to songs when they can sing along. "
The Foundation has previously presented the Joe Hill Award to Cesar Chavez, Anne Feeney, John McCutcheon, Hazel Dickens, Charlie King, Utah Phillips, Archie Green, Joe Glazer, Faith Petric, Guy & Candie Carawan, Pete Seeger, and Anne Romaine. The Foundation began presenting the Joe Hill Award in 1989, ten years after Glazer founded the organization.
According to its website, "The Joe Hill Award honors leaders and artists who have contributed to the successful integration of arts and culture in the labor movement. Every year at the Great Labor Arts Exchange, the Labor Heritage Foundation gives the award to individuals based on their dedication, participation, and promotion of labor, labor arts, culture, organizing, and/or history. The Labor Heritage Foundation has presented this annual lifetime achievement award for work in the field of labor culture since 1989."
If you have been waiting to buy It's A Dog's Life by Si Kahn & the Looping Brothers as downloads, you are now in luck.
Just go to Si's CD Baby page and purchase the downloads of specific songs or the whole album there: https://store.cdbaby.com/cd/sikahn3
One can also stream the complete album on Spotify. https://open.spotify.com/album/4gQFyIYe9q7umwtrbOHtbF
New profile:  Si Kahn at 75
Gary Stoller wrote an article about Si for No Depression – The Journal of Roots Music
New video of Government on Horseback:
Title cut of the new CD, Its a Dog's Life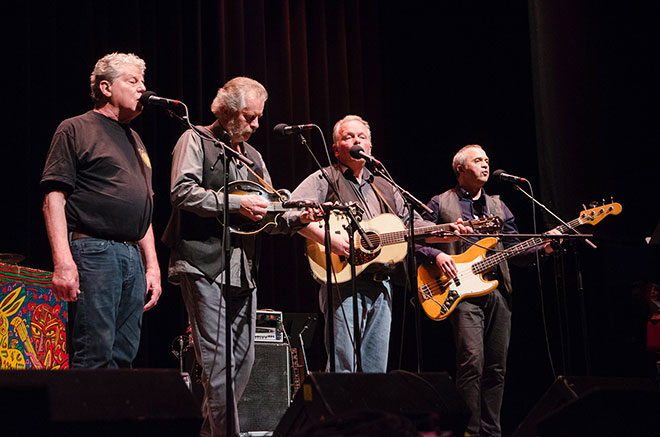 Si Kahn and the Looping Brothers performed in Morgantown, West Virginia on the "Mountain Stage" series from West Virginia Public Radio.  The archive of that show is now available:
Watch now! – (Si's section of the broadcast runs from 52:50 through 1:14)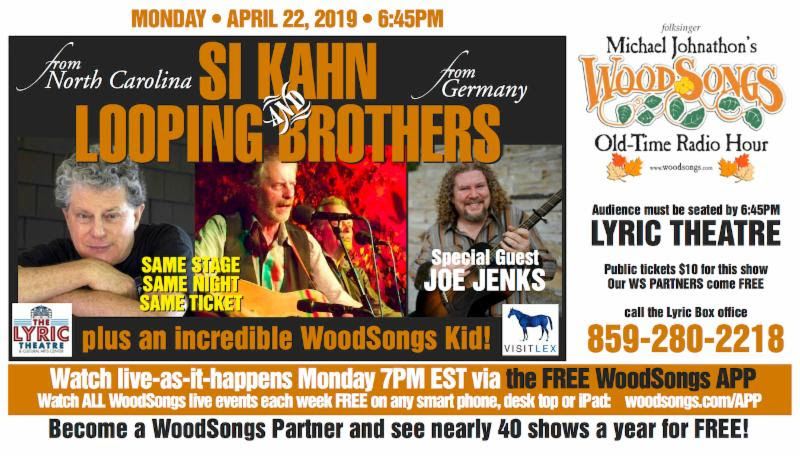 More Si Kahn's 75th Birthday events at MerleFest on Friday, April 26
Friday, April 26th:  Wilkesboro, NC:  MerleFest
Official CD Release at MerleFest, In Honor of Si's 75th:  IT'S A DOGS LIFE, the new Strictly Country Records album by The Looping Brothers, featuring Si Kahn songs that have never before been recorded.
1:10 – 1:25:  Austin Stage:  Si Kahn and the Looping Brothers bluegrass band from Germany
1:45 – 2:45:  Traditional Stage:  Si Kahn's 75th Birthday Celebration featuring:
Eliza Meyer
Cathy Fink & Mary Marxer
The Looping Brothers
plus a special appearance by the legendary "most dangerous woman in America" Mother Jones!
5:15 – 6:00:  Mayes Pit:  Si Kahn's musical Mother Jones in Heaven" featuring Vivian Nesbitt & John Dillon
April 23:  The Evening Muse in Charlotte, NC
The Si Kahn and the Looping Brothers head back to Kahn's hometown of Charlotte, North Carolina to celebrate on his actual birthday on April 23 at the Evening Muse. The Evening Muse program also includes two-time Grammy winners Cathy Fink & Marcy Marxer and a performance by actress Vivian Nesbitt and guitarist John Dillon of Kahn's most recent historical musical play, "Mother Jones in Heaven." Nesbitt and Dillon recorded the soundtrack album which debuted last month at #12 on the folk music chart. Tickets remain available via http://bit.ly/SiMuseTix.
April 26:  MerleFest in Wilkesboro, NC
See separate post about what's happening at MerleFest
April 28:  Mountain Stage in Morgantown, WV
Listen online or on one of 240 public radio stations
Completing the junket in grand fashion, Kahn and the Looping Brothers will perform in Morgantown, West Virginia on the "Mountain Stage" series from West Virginia Public Radio on Sunday, April 28. More than 240 public radio stations will air the show, mostly live, that also features singer-songwriter Greg Brown and popular string band, Lula Wiles.
Vivian Nesbitt & John Dillon
"The Songs of Mother Jones in Heaven"
a musical by Si Kahn
Continue reading for annotated track list.
Si Kahn is in his 52nd year as a civil rights, union and community organizer and musician, so it is no wonder that Folk Alliance International will bestow on him the Folk Alliance Spirit of Folk Award.
The theme of this year's conference is "Forbidden Folk" and will be all about music and activism. Those of you who know Si have probably been following his work with Musicians United to Protect Bristol Bay and the epic battle to defeat the proposed Pebble Mine. The world received some good news yesterday about the shaky economics of the Pebble project. But the fight is not over! If we allow the Pebble Mine to be built, it will be the largest open pit copper and gold mine in the world. It will threaten to destroy Alaska Native villages that have been on the same river sites for 50,000 to 100,000 years, since the ancestors of today's villagers arrived from Siberia, and it will devastate the world's richest remaining wild sockeye salmon fishery. Find out more at http://MusiciansUnited.info