Michael Stock interviews and plays music by Si Kahn on "Folk & Acoustic Music" on WLRN Miami Sunday December 1st. Listen live between 2 PM and 5 PM or click below to listen anytime.
"Folk & Acoustic Music" on WLRN Miami Sunday December 1st.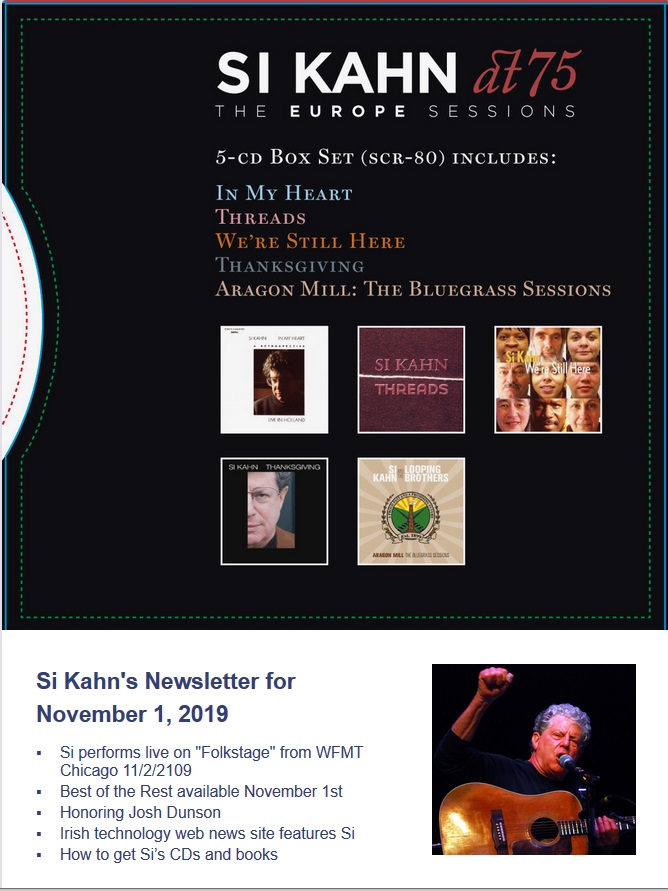 Buy Your Copy Now: The Best of the Rest: Si's Personal Picks from The Europe Sessions (2019)
Listen to Preview tream of Best of the Rest
"This fatly tracked sampler culled from the recent 5 cd box set of his European recordings finds Kahn at 75 still full of piss and vinegar knowing how to present it in a way that's never strident or preachy. An American songwriting treasure that's more Pete Seeger than John Prine, especially vocally, it's smart to accept the invitation to celebrate with him and really take care of your folkie, singer/songwriter sweet tooth. A solid set that really makes you wan tot dig in and have it all." – Midwest Record Review
Best of the Rest includes four songs from each of the five albums that Si recorded in Switzerland, Germany, and the Netherlands: In My Heart (1994), Threads (2002), We're Still Here (2004), Thanksgiving (2007), and Aragon Mill: The Bluegrass Sessions (2013). Artists on these albums include the Kruger Brothers, before they moved to North Carolina, Germany's The Looping Brothers, Liz Meyer, and blues great Scott Ainslie.
Click here to read Si's newsletter for October: http://bit.ly/2J3Djs6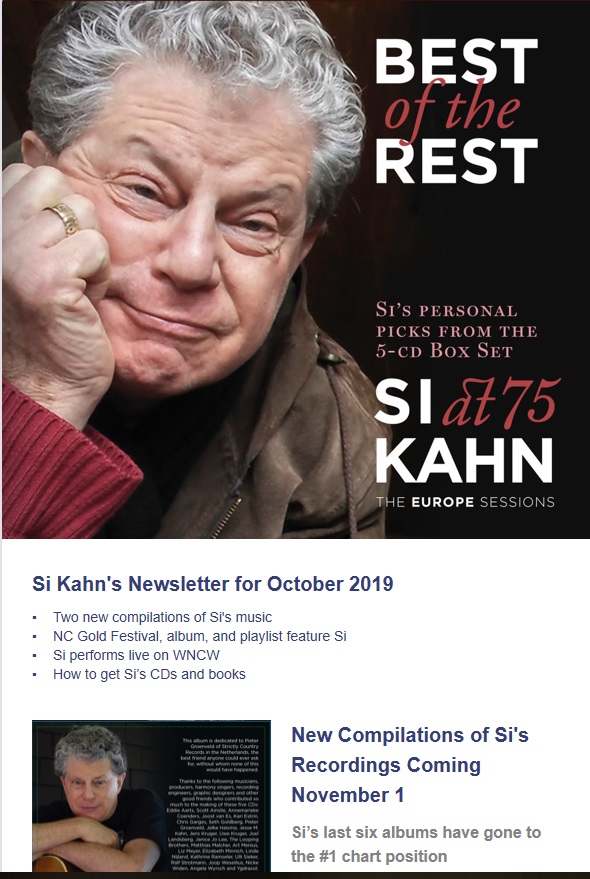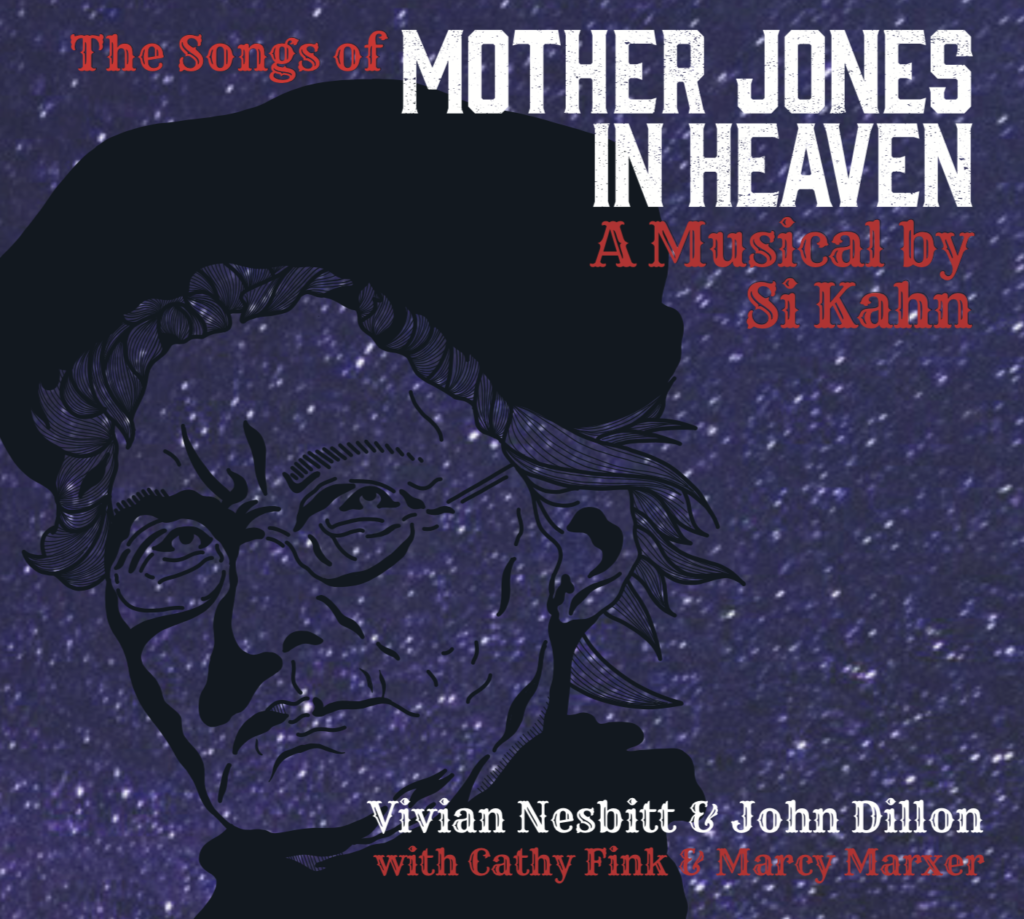 Can you use some reinforcements in the fights for justice in your community? The historic "Most dangerous woman in America" is available to help!
Si's musical Mother Jones in Heaven is currently touring the country in an RV named "The MotherMobile" and can stop for a night, a weekend, or longer at your local theater, community center, union hall, college/university, faith community, or even your own living room. The musical stars third generation actor Vivian Nesbitt (Breaking Bad, Longmire, Night Shift) with guitar accompaniment and harmony vocals by Vivian's spouse John Dillon. To find out where 'Mother' is going to be next and/or to arrange for a visit, please email info@motherjonesinheaven.com.
The musical opens as Mother Jones arrives in Heaven to discover that it's identical to her favorite Irish Pub in Hyattsville, MD. In the course of the 70-minute performance, Mother Jones looks back over her life, balancing the scales as she sifts through her storied past, weaving moments of profound insight with hilarious tales of a hellion in her prime. On the one side, her methods and practices, on the other, her reputation and results.
While you're waiting for Mother Jones to arrive, take a listen to John Dillon's latest original song "Greenland, Greenland." Need we say more? Here's the link where you can listen, read the lyrics and share on your favorite social media platform:
https://soundcloud.com/user-538233394/greenland-greenland
'THE SONGS OF MOTHER JONES IN HEAVEN' CD DEBUTED AT #12 ON THE FOLK CHARTS. CLICK HERE TO ORDER!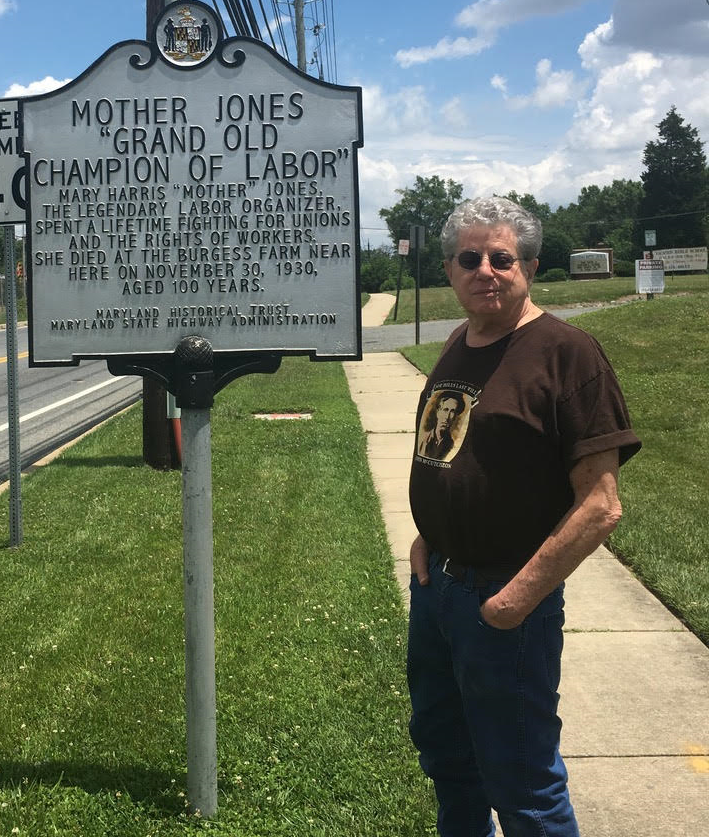 Brian Turk put together the video piece "Thoughts: Si Kahn & Labor Day in NC" which appeared on Monday, September 2 on the website of NC Music Magazine: A Journal of NC Music. You can read the article here.
SI KAHN – LABOR ORGANIZER/SONGWRITER!

A rare example of a folk and bluegrass songwriter who's actually worked as a union organizer, Si is one of the most prolific writers of songs for and about working people. Many of songs Si has written come directly out of the work he's done with the labor movement.

Below is a list of songs over his decades long musical career that deal with Labor rights and workers. And below this – is a little more info about Si and his time as a Labor organizer with additional info on his progressive works.

Songs of LABOR & STRUGGLE from Si Kahn's decades of recordings:
Aragon Mill, New Wood, 2:09
Brookside Strike, New Wood, 2:26
Lawrence Jones, New Wood, 1:54
Truck Driving Woman, New Wood, 2:10
Working Away, I'll Be There, 2:53
Jobs With Justice, I'll Be There, 2:29
They All Sang Bread and Roses, I Have Seen Freedom, 2:38
Molly in the Mill, In My Heart: A Retrospective, 2:44
Detroit December:  In My Heart: A Retrospective, 2:57
Long Way To Harlan, Been A Long Time, 2:38 (duet with Laurie Lewis)
Brown Lung Blues, Been A Long Time, 2:45
Just A Lie, Been A Long Time, 2:26
A Time For Us All, We're Still Here, 3:32 (union wedding song)
Hard Times, We're Still Here, 2:31 (includes the word 'bastards')
The Gap ($8,825 An Hour), We're Still Here, 3:10
We Roll the Steel, We're Still Here 2:48
Wigan Pier, We're Still Here, 3:04
Go To Work On Monday, Thanksgiving, 3:58
In the Spinning Mill, Thanksgiving, 2:32
Washington Square, Courage, 4:46
Sailing To Alaska, Bristol Bay, 2:53
Five Days A Week, Aragon Mill: The Bluegrass Sessions, 2:40
Gulf of Mexico, It's A Dog's Life, 3:04
Rats in a Maze, It's A Dog's Life, 4:04
"A Time For Us All"  We're Still Here! 
Government on Horseback, It's A Dog's Life. 2:26) (video at http://bit.ly/GovtHorse)
BACKGROUND OF SI AS A LABOR ORGANIZER
Si's union organizing career started with the United Mine Workers of Ameria (UMWA) during the Brookside Strike in "Bloody Harlan" County, Kentucky in 1973-1974.  That strike is dramatically portrayed in Barbara Kopple's film Academy award winning "Harlan County U.S.A." and led to Si's writing songs "Brookside Strike" and "Lawrence Jones," the latter given a powerful rendition by the great Kathy Mattea on her 2008 album Coal.
From there Si went to the Textile Workers Union of America (TWUA) to work on the J.P. Stevens Campaign, portrayed in the film "Norma Rae" starring Sally Field.  Contrary to rumor, Si is not the Jewish organizer played in the film by Ron Leibman; he got to Roanoke Rapids, North Carolina, home to seven J.P. Stevens mills, right after the film ends.  That experience led to dozens of songs about the mills, from Si's signature song "Aragon Mill" to Threads, an entire album of mill songs recorded with the Kruger Brothers while they were still living in Switzerland.
Last year the Newfoundland & Labrador Council of Labor brought Si to their conference to talk about fighting back against privatization and how to write chants collectively, so you don't need to shout "The people united/Will never be defeated" for hours on end.  Please keep scrolling for a photo of Si leading a hundred Canadian union members in "Solidarity Forever" during a demonstration at the Provincial government headquarters in St. John's.
Si was named the official Poet Laureate of the North Carolina AFL-CIO by unanimous vote of the Convention in 1985.  This year, at its 40th anniversary conference, the Labor Heritage Foundation honored Si with their Joe Hill Lifetime Achievement Award.
Si also writes musicals, several of which are about legendary labor agitators, including Mother Jones in Heaven, now touring nationally featuring third generation actor Vivian Nesbitt (Breaking Bad, Longmire, Night Shift) and her guitarist/vocalist spouse John Dillon.  There are many appropriate Labor Day songs on their cast album Songs of Mother Jones in Heaven, produced by double Grammy winners Cathy Fink & Marcy Marxer.  Be sure to check out "You Are the 'U' in Union" (2:31), "Stitch and Sew" (3:26), "Houses on the Hill" (3:25) and "Silk and Satin" (3:20).
Also check out "The Old Labor Hall" (4:10), "Who Will Speak for Me?" (4:25), "Shuttle and Loom" (3:33), "Union Miner" (2:26) and "Third Shift" (2:45) on Joe Jencks' CD The Forgotten: Recovered Treasures from the Pen of Si Kahn.

Kari Estrin
Kari Estrin Mgt/Consulting
Honored at Great Labor Arts Exchange
Thursday night, June 20th, at the Great Labor Arts Exchange in Washington, DC, the Labor Heritage Foundation honored Si Kahn with the Joe Hill Award. The Foundation presents the award, named for the legendary Wobbly songwriter, as a lifetime achievement award for contributions to the labor movement and to working-class culture.
"We are presenting the Joe Hill Award tonight to one of the greatest songwriters of this generation or any generation, Si Kahn," Labor Heritage Foundation board chair Saul Schniderman said in presenting Kahn with the Award. "So it is fitting that he receive an award in the name of Joe Hill, the famous IWW songwriter who gave his life for the cause. And because 2019 is Si Kahn's 75th birthday, all the more reason to celebrate.
"Tonight we praise you for your musical and artistic contributions to the working class and to the labor movement.  For your creative songs which tell the stories of unions, of people of color, of immigrants, of everyone struggling for human rights.  For your hundreds of compositions such as 'Aragon Mill,' 'Gone Gonna Rise Again,' 'Mississippi Summer,' 'Crossing the Border,' 'They All Sang Bread and Roses,' and 'People Like You. '
"For your many sound recordings such as New Wood, We're Still Here, I Have Seen Freedom, Carry it On, Bristol Bay, Courage, and recently It's a Dog's Life with The Looping Brothers.  For your playwriting, your innovative musical theater presentations which tell Labor's Untold Story – such as Joe Hill's Last Will, Mother Jones in Heaven, Some Sweet Day and Precious Memories. For the numerous folk and bluegrass music awards you have received, for your concerts, songbooks, and publications promoting people's music, and for spreading the gospel of social justice through music and drama.  For all these past years you have Carried it On!"
"This past week I was in Silver Spring, Maryland for the 40th anniversary of the Labor Heritage Foundation's annual Great Labor Arts Exchange, at which they presented me with their Joe Hill Lifetime Achievement Award, a great honor," Si wrote. "Among the things I learned from Joe Hill were that one of the best ways to make sure a political message really gets heard is to use humor and satire, and that people pay the most attention to songs when they can sing along. "
The Foundation has previously presented the Joe Hill Award to Cesar Chavez, Anne Feeney, John McCutcheon, Hazel Dickens, Charlie King, Utah Phillips, Archie Green, Joe Glazer, Faith Petric, Guy & Candie Carawan, Pete Seeger, and Anne Romaine. The Foundation began presenting the Joe Hill Award in 1989, ten years after Glazer founded the organization.
According to its website, "The Joe Hill Award honors leaders and artists who have contributed to the successful integration of arts and culture in the labor movement. Every year at the Great Labor Arts Exchange, the Labor Heritage Foundation gives the award to individuals based on their dedication, participation, and promotion of labor, labor arts, culture, organizing, and/or history. The Labor Heritage Foundation has presented this annual lifetime achievement award for work in the field of labor culture since 1989."
If you have been waiting to buy It's A Dog's Life by Si Kahn & the Looping Brothers as downloads, you are now in luck.
Just go to Si's CD Baby page and purchase the downloads of specific songs or the whole album there: https://store.cdbaby.com/cd/sikahn3
One can also stream the complete album on Spotify. https://open.spotify.com/album/4gQFyIYe9q7umwtrbOHtbF