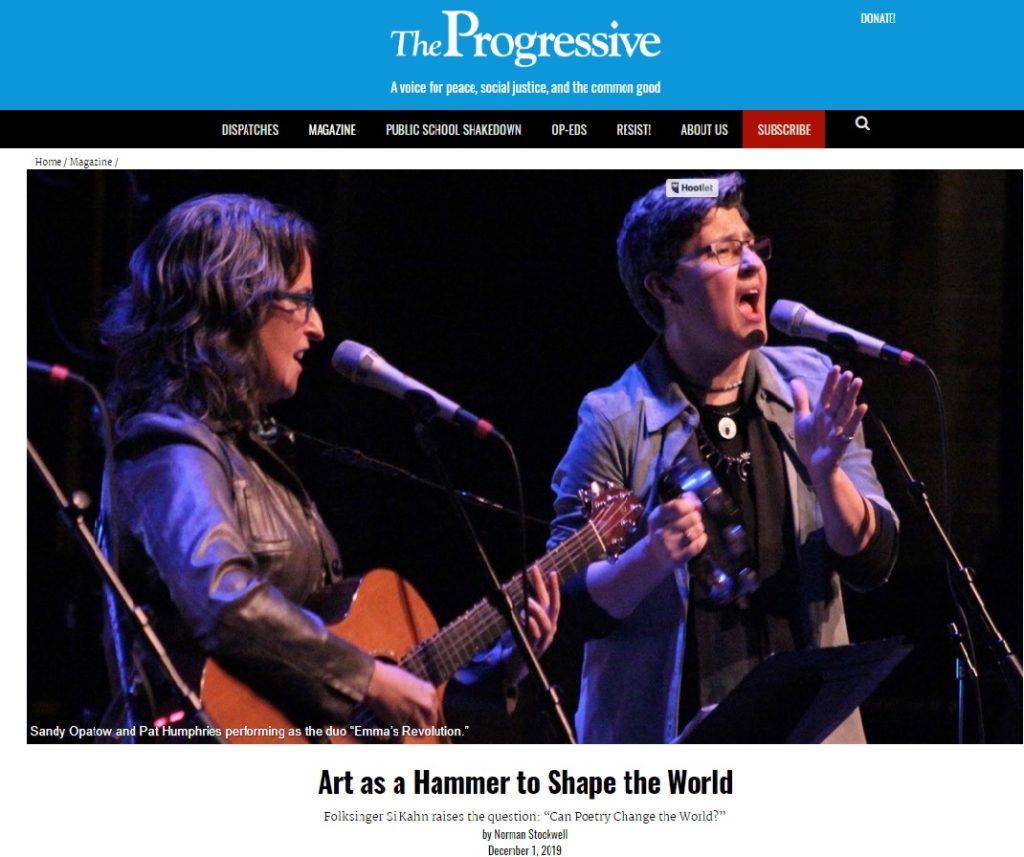 https://progressive.org/magazine/art-as-a-hammer-to-shape-the-world-stockwell/
Under the title "Art as a Hammer to Shape the World: Folksinger Si Kahn raises the question 'Can Poetry Change the World?'" venerable publisher Norm Stockwell examined the work of Si, Emma's Revolution, and the late Don West in the venerable left-leaning magazine The Progressive.
Stockwell wrote: "Well, if music could only bring peace, I'd only be a musician," sang Pete Seeger in his 1967 song "Letter to Eve." In an essay in a forthcoming University Press of Kentucky re-issue of the classic [Don West] book Clods of Southern Earth, folksinger Si Kahn raises a related question: "Can Poetry Change the World?"…..
"'A lot of people say, oh, music can change the world,' says Kahn in a recent interview, during which we chat about his work and my tattered copy of West's classic. But, he continues, 'only if it's accompanied by direct action organizing. People say, 'Well, look at the civil rights movement. All those songs, didn't they make a difference?' I say, yes, of course they did. They sustained the people who made the movement. The songs were important. But songs alone, poetry alone, any of the arts alone, they don't change the world. That takes organizing and direct action.'"
Read the complete article at: https://progressive.org/magazine/art-as-a-hammer-to-shape-the-world-stockwell/
Stockwell is publisher of The Progressive. Previously, for more than 20 years, he served as WORT Community Radio's Operations Coordinator in Madison, Wisconsin. He also coordinated the IraqJournal website in 2002-2003. In 2011, he regularly reported on protests in Madison for Iran's PressTV and other outlets. His reports and interviews have appeared on Free Speech Radio News, DemocracyNow!, and AirAmerica, and in print in Z Magazine, the Capital Times, AlterNet, Toward Freedom, the Tico Times, the Feminist Connection, and elsewhere. He is co-editor of the book REBEL REPORTING: John Ross Speaks to Independent Journalists.
Hear Bill Wagman interview Si on KDVS in Davis, CA on 1-18-2020. Si's portion begins at 7:30 and ends at 44:30.
"The Saturday Folk Show" airs weekly from 9 AM to Noon Pacific Time.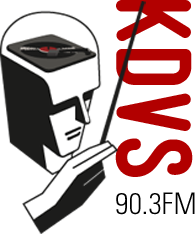 Veteran folk DJ Artie Martello has just posted online his in-depth interview with Si for the Mostly Folk podcast.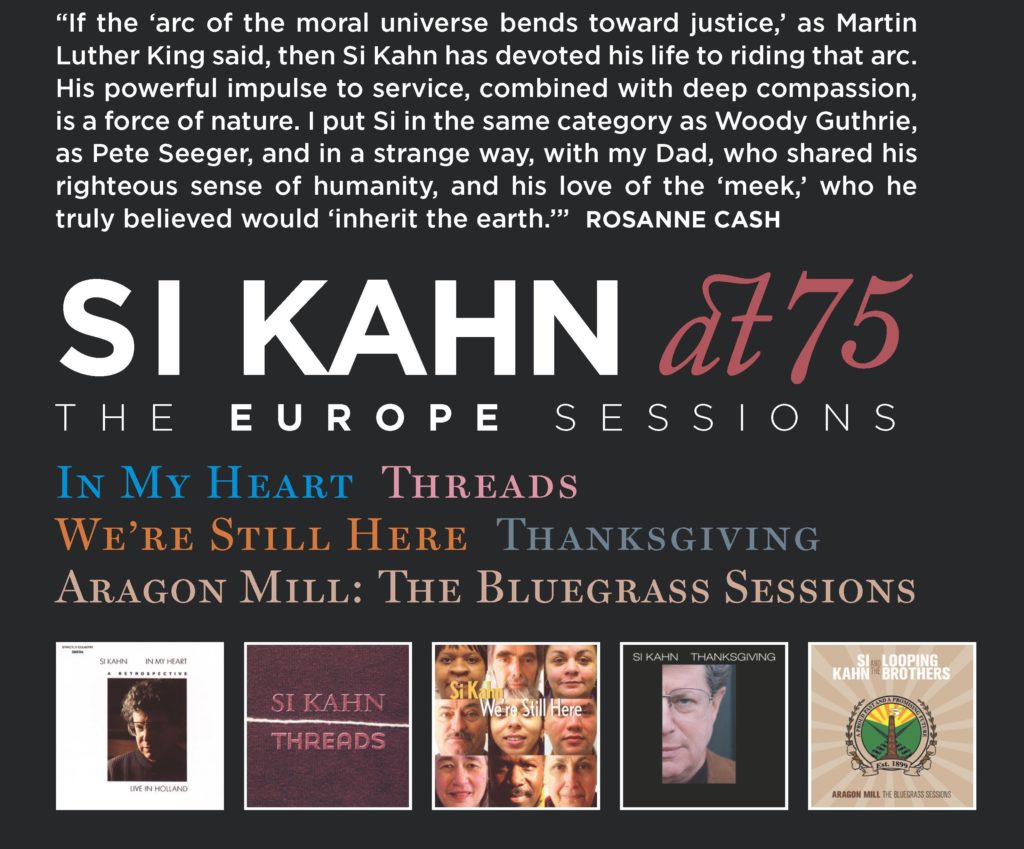 Coming in late January from Strictly Country Records
Si Kahn at 75: The Europe Sessions is the five-CD box set Strictly Country Records is releasing in honor of Si's 75th year. A 20-song collection drawn by Si from the box set Best of the Rest was Si's third CD in 2019r – the first two being Vivian Nesbitt & John Dillon's The Songs of Mother Jones in Heaven (the soundtrack of the musical written by Si) and It's Dog's Life by Si & The Looping Brothers. In Si's 75th year he not only is celebrating his long career as a songwriter and performer – with six straight No. 1 albums in these past 12 years, but also his decades-long work as a civil rights, union, and community organizer.
You can read more at https://sikahn.com/si-kahns-magisterial-new-5-cd-box-set-si-kahn-at-75-the-europe-sessions/
Michael Stock interviews and plays music by Si Kahn on "Folk & Acoustic Music" on WLRN Miami Sunday December 1st. Listen live between 2 PM and 5 PM or click below to listen anytime.
"Folk & Acoustic Music" on WLRN Miami Sunday December 1st.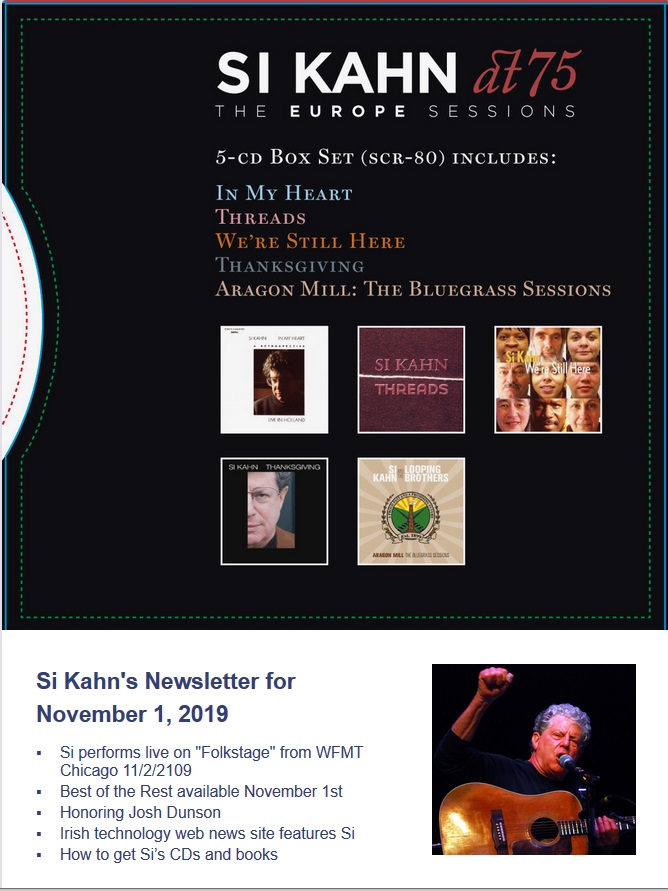 Buy Your Copy Now: The Best of the Rest: Si's Personal Picks from The Europe Sessions (2019)
Listen to Preview tream of Best of the Rest
"This fatly tracked sampler culled from the recent 5 cd box set of his European recordings finds Kahn at 75 still full of piss and vinegar knowing how to present it in a way that's never strident or preachy. An American songwriting treasure that's more Pete Seeger than John Prine, especially vocally, it's smart to accept the invitation to celebrate with him and really take care of your folkie, singer/songwriter sweet tooth. A solid set that really makes you wan tot dig in and have it all." – Midwest Record Review
Best of the Rest includes four songs from each of the five albums that Si recorded in Switzerland, Germany, and the Netherlands: In My Heart (1994), Threads (2002), We're Still Here (2004), Thanksgiving (2007), and Aragon Mill: The Bluegrass Sessions (2013). Artists on these albums include the Kruger Brothers, before they moved to North Carolina, Germany's The Looping Brothers, Liz Meyer, and blues great Scott Ainslie.
Click here to read Si's newsletter for October: http://bit.ly/2J3Djs6