New profile:  Si Kahn at 75
Gary Stoller wrote an article about Si for No Depression – The Journal of Roots Music
New video of Government on Horseback:
Title cut of the new CD, Its a Dog's Life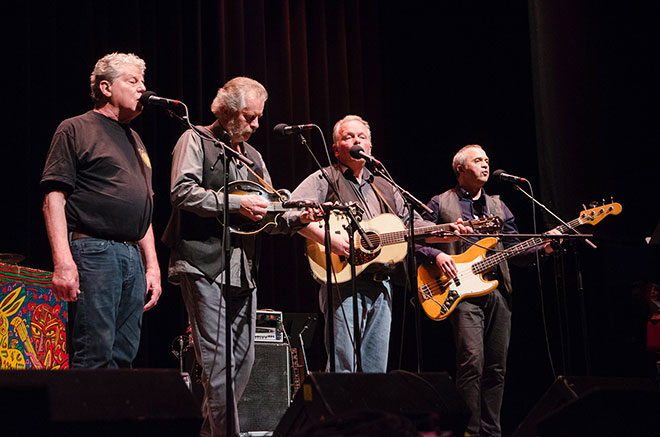 Si Kahn and the Looping Brothers performed in Morgantown, West Virginia on the "Mountain Stage" series from West Virginia Public Radio.  The archive of that show is now available:
Watch now! – (Si's section of the broadcast runs from 52:50 through 1:14)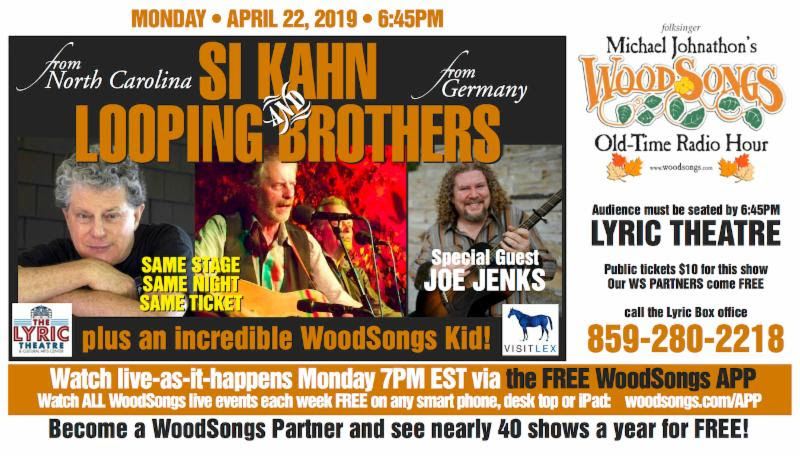 More Si Kahn's 75th Birthday events at MerleFest on Friday, April 26
Friday, April 26th:  Wilkesboro, NC:  MerleFest
Official CD Release at MerleFest, In Honor of Si's 75th:  IT'S A DOGS LIFE, the new Strictly Country Records album by The Looping Brothers, featuring Si Kahn songs that have never before been recorded.
1:10 – 1:25:  Austin Stage:  Si Kahn and the Looping Brothers bluegrass band from Germany
1:45 – 2:45:  Traditional Stage:  Si Kahn's 75th Birthday Celebration featuring:
Eliza Meyer
Cathy Fink & Mary Marxer
The Looping Brothers
plus a special appearance by the legendary "most dangerous woman in America" Mother Jones!
5:15 – 6:00:  Mayes Pit:  Si Kahn's musical Mother Jones in Heaven" featuring Vivian Nesbitt & John Dillon
April 23:  The Evening Muse in Charlotte, NC
The Si Kahn and the Looping Brothers head back to Kahn's hometown of Charlotte, North Carolina to celebrate on his actual birthday on April 23 at the Evening Muse. The Evening Muse program also includes two-time Grammy winners Cathy Fink & Marcy Marxer and a performance by actress Vivian Nesbitt and guitarist John Dillon of Kahn's most recent historical musical play, "Mother Jones in Heaven." Nesbitt and Dillon recorded the soundtrack album which debuted last month at #12 on the folk music chart. Tickets remain available via http://bit.ly/SiMuseTix.
April 26:  MerleFest in Wilkesboro, NC
See separate post about what's happening at MerleFest
April 28:  Mountain Stage in Morgantown, WV
Listen online or on one of 240 public radio stations
Completing the junket in grand fashion, Kahn and the Looping Brothers will perform in Morgantown, West Virginia on the "Mountain Stage" series from West Virginia Public Radio on Sunday, April 28. More than 240 public radio stations will air the show, mostly live, that also features singer-songwriter Greg Brown and popular string band, Lula Wiles.
Vivian Nesbitt & John Dillon
"The Songs of Mother Jones in Heaven"
a musical by Si Kahn
Continue reading for annotated track list.
Si Kahn is in his 52nd year as a civil rights, union and community organizer and musician, so it is no wonder that Folk Alliance International will bestow on him the Folk Alliance Spirit of Folk Award.
The theme of this year's conference is "Forbidden Folk" and will be all about music and activism. Those of you who know Si have probably been following his work with Musicians United to Protect Bristol Bay and the epic battle to defeat the proposed Pebble Mine. The world received some good news yesterday about the shaky economics of the Pebble project. But the fight is not over! If we allow the Pebble Mine to be built, it will be the largest open pit copper and gold mine in the world. It will threaten to destroy Alaska Native villages that have been on the same river sites for 50,000 to 100,000 years, since the ancestors of today's villagers arrived from Siberia, and it will devastate the world's richest remaining wild sockeye salmon fishery. Find out more at http://MusiciansUnited.info
How do you help convince North Carolina's governor and legislature that House Bill 2 has deeply damaged our state's economy and reputation, and that it's time to repeal HB2 in full?
North Carolinia social justice activist and musician Si Kahn believes you can help do it with a song.
Or, to be precise, with five songs, including such jazzy numbers as "The Bad Old Hymn of the Republicans," "Who's in the Bathroom With Me?" and the soon to be instant classic "Oy Vey!"
Kahn's "NO 2 HB2 Video EP Suite" goes live today on YouTube and Facebook as music videos produced by his fellow Charlottean Brian Kasher.
Click HERE to play NO 2 HB2: The VIDEO EP SUITE on YouTube.
Click HERE to visit the NO 2 HB2 Facebook page with videos, session photos and more.
"As a North Carolinian for 40 years," Kahn says, "I'm proud of my state's traditions, from being a long time leader in higher education to creating opportunities for all. It breaks my heart to see North Carolina become a laughingstock because of HB2."
Kahn is both a long time civil rights, labor and community organizer, and an internationally respected writer of songs for bluegrass, musical theater, folk and children's music.
In 2015, Kahn was inducted into the Blue Ridge Music Hall of Fame, joining such legendary artists as Doc Watson, Etta Baker, Ralph and Carter Stanley, Emmylou Harris, Dolly Parton, Earl Scruggs and Lester Flatt.
Kahn received the Winthrop University 2015 Medal of Honor in the Arts and the Charlotte Folk Society 2011 Folk Heritage Award.
Every other year Winthrop University in Rock Hill, South Carolina honors artists and arts advocates who have made significant contributions to the visual, performing, and recording arts. Previous winners have included world-renowned pianist Charles Wadsworth, Broadway's Motown director Charles Randolph Wright, Charleston, SC Mayor Joe Riley and many others. It is with great honor to announce Si Kahn as one of Winthrop's 2015 Medal of Honor in the Arts
http://www.winthrop.edu/news-events/article.aspx?id=39774 Continue reading →