Veteran folk DJ Artie Martello has just posted online his in-depth interview with Si for the Mostly Folk podcast.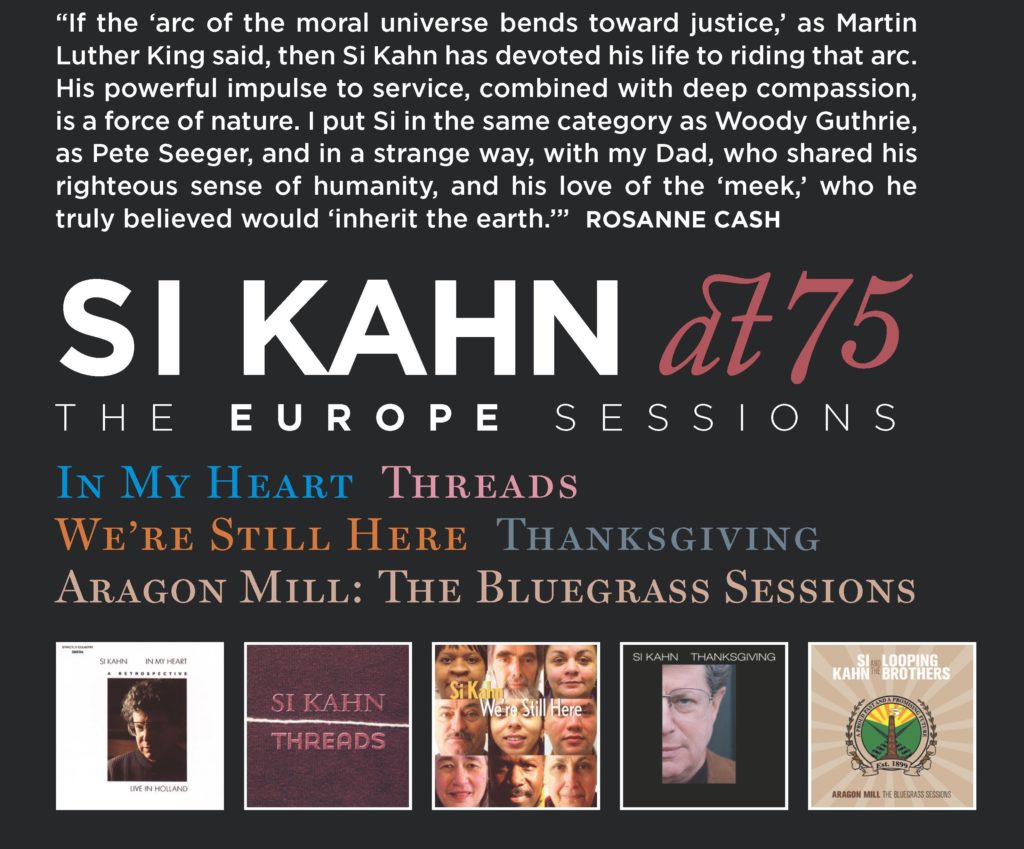 Coming in late January from Strictly Country Records
Si Kahn at 75: The Europe Sessions is the five-CD box set Strictly Country Records is releasing in honor of Si's 75th year. A 20-song collection drawn by Si from the box set Best of the Rest was Si's third CD in 2019r – the first two being Vivian Nesbitt & John Dillon's The Songs of Mother Jones in Heaven (the soundtrack of the musical written by Si) and It's Dog's Life by Si & The Looping Brothers. In Si's 75th year he not only is celebrating his long career as a songwriter and performer – with six straight No. 1 albums in these past 12 years, but also his decades-long work as a civil rights, union, and community organizer.
You can read more at https://sikahn.com/si-kahns-magisterial-new-5-cd-box-set-si-kahn-at-75-the-europe-sessions/
Michael Stock interviews and plays music by Si Kahn on "Folk & Acoustic Music" on WLRN Miami Sunday December 1st. Listen live between 2 PM and 5 PM or click below to listen anytime.
"Folk & Acoustic Music" on WLRN Miami Sunday December 1st.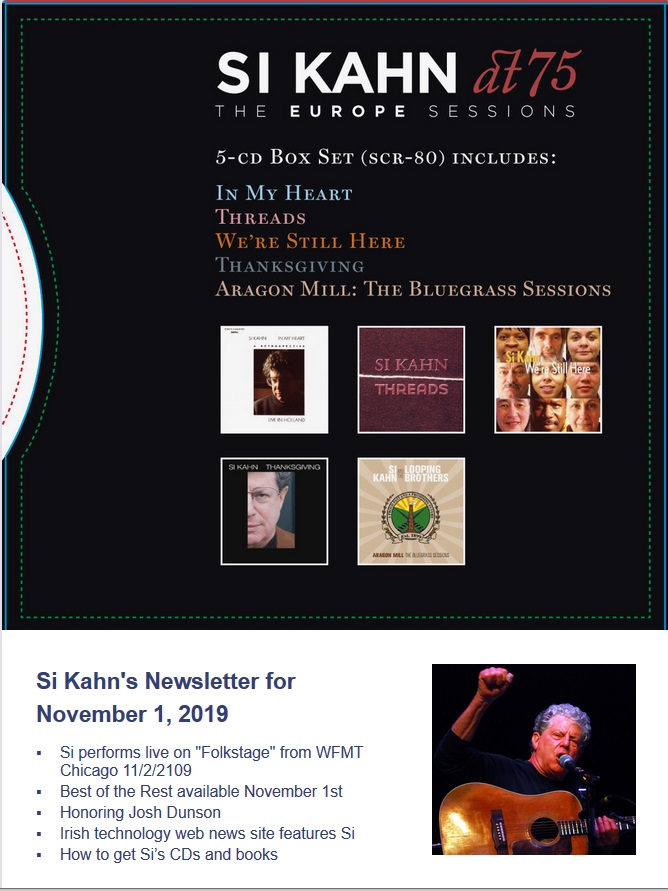 Buy Your Copy Now: The Best of the Rest: Si's Personal Picks from The Europe Sessions (2019)
Listen to Preview tream of Best of the Rest
"This fatly tracked sampler culled from the recent 5 cd box set of his European recordings finds Kahn at 75 still full of piss and vinegar knowing how to present it in a way that's never strident or preachy. An American songwriting treasure that's more Pete Seeger than John Prine, especially vocally, it's smart to accept the invitation to celebrate with him and really take care of your folkie, singer/songwriter sweet tooth. A solid set that really makes you wan tot dig in and have it all." – Midwest Record Review
Best of the Rest includes four songs from each of the five albums that Si recorded in Switzerland, Germany, and the Netherlands: In My Heart (1994), Threads (2002), We're Still Here (2004), Thanksgiving (2007), and Aragon Mill: The Bluegrass Sessions (2013). Artists on these albums include the Kruger Brothers, before they moved to North Carolina, Germany's The Looping Brothers, Liz Meyer, and blues great Scott Ainslie.
Click here to read Si's newsletter for October: http://bit.ly/2J3Djs6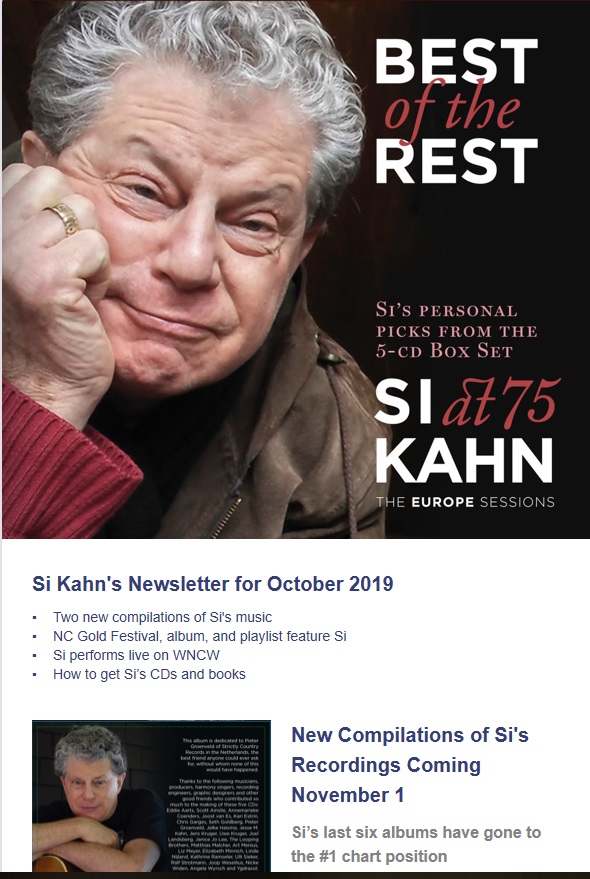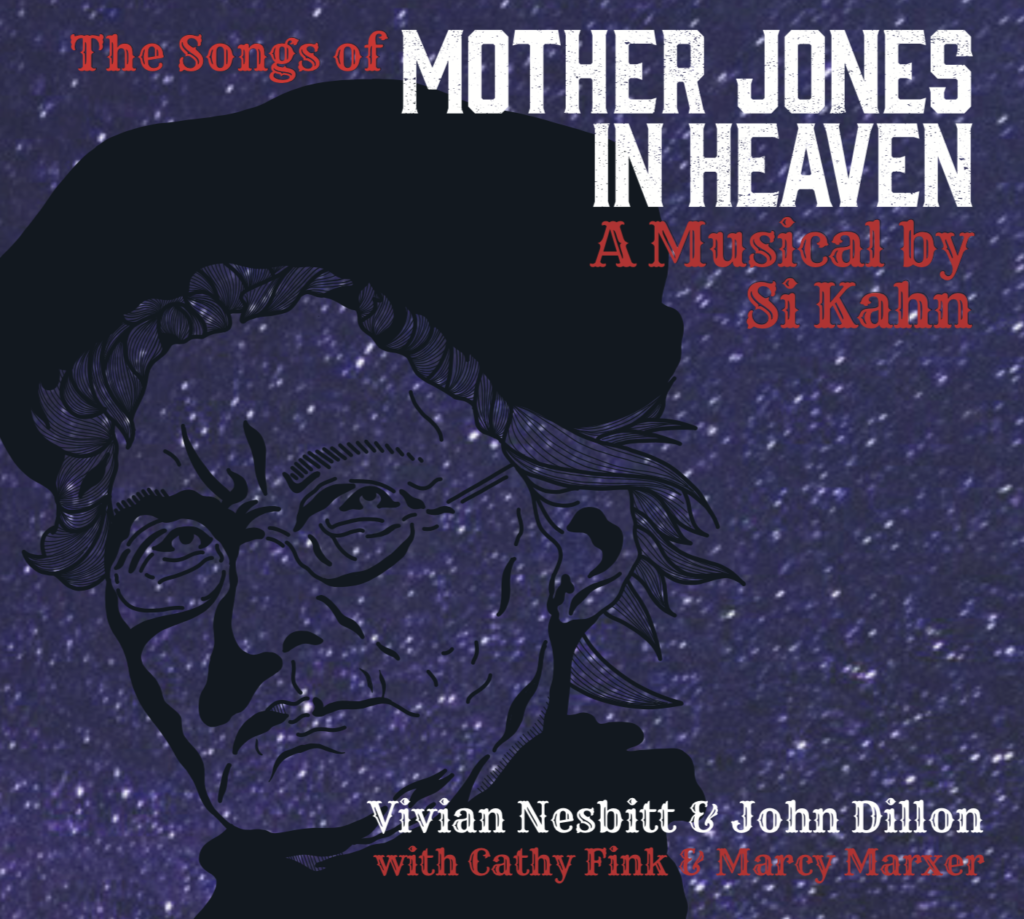 Can you use some reinforcements in the fights for justice in your community? The historic "Most dangerous woman in America" is available to help!
Si's musical Mother Jones in Heaven is currently touring the country in an RV named "The MotherMobile" and can stop for a night, a weekend, or longer at your local theater, community center, union hall, college/university, faith community, or even your own living room. The musical stars third generation actor Vivian Nesbitt (Breaking Bad, Longmire, Night Shift) with guitar accompaniment and harmony vocals by Vivian's spouse John Dillon. To find out where 'Mother' is going to be next and/or to arrange for a visit, please email info@motherjonesinheaven.com.
The musical opens as Mother Jones arrives in Heaven to discover that it's identical to her favorite Irish Pub in Hyattsville, MD. In the course of the 70-minute performance, Mother Jones looks back over her life, balancing the scales as she sifts through her storied past, weaving moments of profound insight with hilarious tales of a hellion in her prime. On the one side, her methods and practices, on the other, her reputation and results.
While you're waiting for Mother Jones to arrive, take a listen to John Dillon's latest original song "Greenland, Greenland." Need we say more? Here's the link where you can listen, read the lyrics and share on your favorite social media platform:
https://soundcloud.com/user-538233394/greenland-greenland
'THE SONGS OF MOTHER JONES IN HEAVEN' CD DEBUTED AT #12 ON THE FOLK CHARTS. CLICK HERE TO ORDER!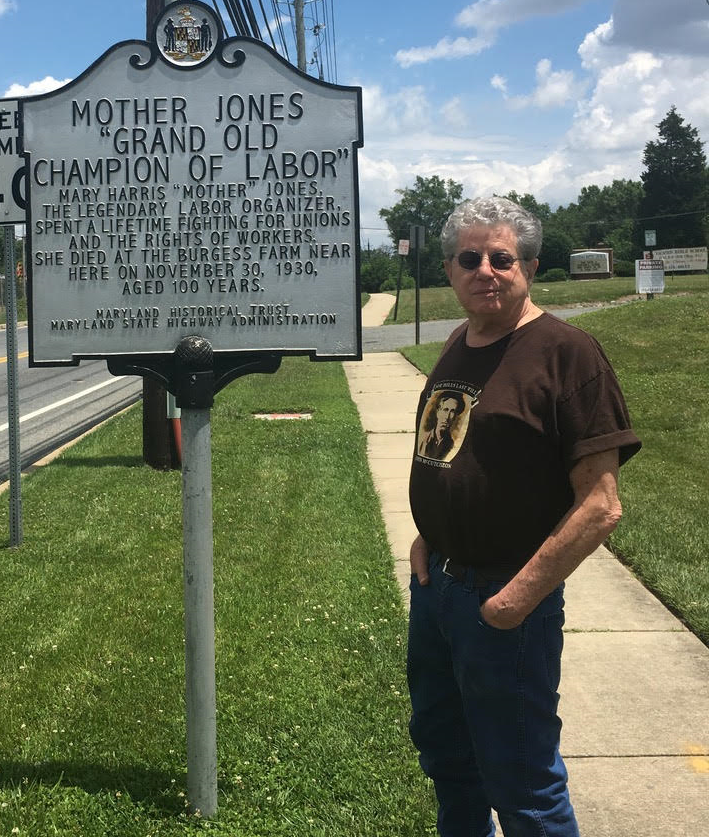 Brian Turk put together the video piece "Thoughts: Si Kahn & Labor Day in NC" which appeared on Monday, September 2 on the website of NC Music Magazine: A Journal of NC Music. You can read the article here.