Music
In a world rife with many talented songwriters, Si Kahn stands alone. And his deeply thoughtful, elegantly simple, sometimes majestic, often achingly moving and always hard-hitting songs have stood, and will continue to stand, the test of time.   –Dave Higgs, Bluegrass News
It's A Dog's Life includes ten previously unrecorded Kahn compositions and features his vocals on three of the thirteen tracks. Those include "Government on Horseback," the first single, where Kahn revives an unrecorded song from 1981.
"When a human says, 'It's a dog's life,' they mean that their life is pretty rough, according to Kahn. "But when a dog says 'It's a dog's life,' and adds examples of how great it is to be a dog, that's a different matter. I suspect this distinction will be lost on many if not most people."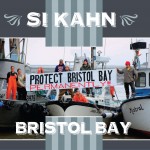 Si's 18th CD Bristol Bay was released on June 15th, 2013, produced by Jens Kruger of the Kruger Brothers, who recently won the $50,000 Steve Martin Prize for Excellence in Banjo and Bluegrass Music.  It was the #1 CD for July on the international Folk DJ List, based on weekly playlists submitted by nearly 200 DJs around the world, the fourth of Si's CDs to win that honor.  Si himself was named the #1 Artist, with the most airplay for the month.  He is donating all income from the Bristol Bay CD, including his artist and songwriter royalties, to support the work of Musicians United To Protect Bristol Bay.
Si's 17th CD Aragon Mill: The Bluegrass Sessions, was recorded in Lengerich, Germany with the German bluegrass band The Looping Brothers.  It was released in Europe on May Day 2013 and on Labor Day in North America by the Dutch music company Strictly Country Records.  The CD won an international Folk DJ List Triple Crown in September, 2013: It was named the #1 CD for the month, Si and the Looping Brothers were recognized as the #1 Artists, and the title track "Aragon Mill" was listed as the #1 Song.
The CD features 15 of Si's original songs, arranged by the Looping Brothers in bluegrass style.  Si and the Looping Brothers toured Germany and the Netherlands in May 2013, including an official showcase at the European World of Bluegrass (EWOB), and the southern United States in late September/early October of that same year, including five official showcases at the International Bluegrass Music Association (IBMA) World of Bluegrass in Raleigh, North Carolina.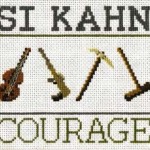 Si's 16th CD Courage, his tribute to the quiet heroism of everyday people, was released on May Day 2010 and was recognized by the Folk DJ List #1 CD for 2010.  Si himself was listed as the #1 Artist for the year, with more airplay for the year on international English language folk radio than either Pete Seeger or Bob Dylan.
Three songs from Courage were in the Folk DJ List Top 10 for the year: "Peace Will Rise" (#1) about the "troubles" in Northern Ireland; "Otis Is Flying" (#3) about a Labrador retriever who yearns to fly, a metaphor for all of us who believe in the possibility of a better and more just world; and "Playing the Old Songs (#10) about a long haul driving Vietnam veteran from West Virginia searching for peace of mind.
At the annual Folk Alliance International conference in February 2011, Si was publicly honored with a special Triple Crown Award for being the #1 Artist, and having the #1 CD and #1 Song for 2010.  His acceptance remarks focused on the public responsibility of artists.
Si's previous CD Thanksgiving won the Folk DJ List Triple Crown in November 2007:
Again, #1 Artist, #1 CD and #1 Song.
Si's songs of family, community, love, work and freedom have been recorded and performed by hundreds of artists around the world, including:
United States: Kathy Mattea, Peggy Seeger, Hazel Dickens, John McCutcheon, the original Red Clay Ramblers, Cathy Fink & Marcy Marxer, Robin and Linda Williams, Laurie Lewis & Tom Rozum, the Dry Branch Fire Squad, Charles Sawtelle, Rosalie Sorrels.
Ireland: Patrick Street (Ireland/US), Planxty, Eleanor Shanley, Dolores Keane, The Fureys, Dublin City Ramblers
Scotland: Dick Gaughan, Alec Campbell, Brian McNeill, Eddi Reader
Other countries: Margaret Christl (Canada/Scotland), Renaud (France), 4 Yn Y Bar (Wales), the Looping Brothers (Germany), An Rinn (Germany), the Otto Groote Group (Germany), Egbert Meyers (Netherlands), June Tabor and the Oyster Band, (England)
(View Si Kahn's complete Discography)
His songs have been translated into at least half a dozen languages, including French, Welsh, Hebrew, Swedish, Drents (a Dutch dialect) and Plattdeutsch ("Low German").  Such songs as Aragon Mill (aka Belfast Mill, Oregon Mill, Weave and Spin, Douglas Mills), Gone Gonna Rise Again, Go To Work On Monday, and Rubber Blubber Whale have become part of the oral tradition, and are sung in folk clubs and living rooms, at demonstrations and on picket lines around the world.
Si has performed at concerts and festivals in Portugal, the Netherlands, Belgium, Germany, Ireland, Scotland, Wales, England, Northern Ireland, Canada and the U.S.  He has toured with Pete Seeger, Andy Irvine, Cathy Fink & Marcy Marxer and John McCutcheon, and has shared festival and workshop stages with artists ranging from Ani DiFranco to the Fairfield Four.  His musical body of work includes 16 albums of original songs; a CD of original songs for children, Good Times and Bedtimes; and a collection of traditional labor and civil rights songs recorded with Pete Seeger and Jane Sapp.
One of Si's favorite musical experiences was being asked by publisher Harper-Collins to set to music and record the classic children's books Runaway Bunny and Goodnight Moon.  He has composed original music and lyrics for half a dozen films and videos, including the labor videos The Turning Point, We're Not Leaving, Shout Youngstown and One Voice, and the PBS documentary, Hazardous Wastes: The Search for a Solution.
Si is a member of the organizing committee for Local 1000 of the American Federation of Musicians, AFL-CIO; a past trustee of the Labor Heritage Foundation; a lifetime member of the International Bluegrass Music Association (IBMA); a lifetime member of the Folk Alliance; and the official poet laureate of the North Carolina AFL-CIO by unanimous vote of the convention in 1986.